Many people come to us with new ideas for inflatables, and many of these ideas are very good. As a matter of policy and good business, GuangZhou XiangHe Inflatable Products Factory, does not replicate other manufacturers proprietary products without written authorization from the manufacturer. If you have an idea or a product that you want to have produced, the following explains the process from start to finish.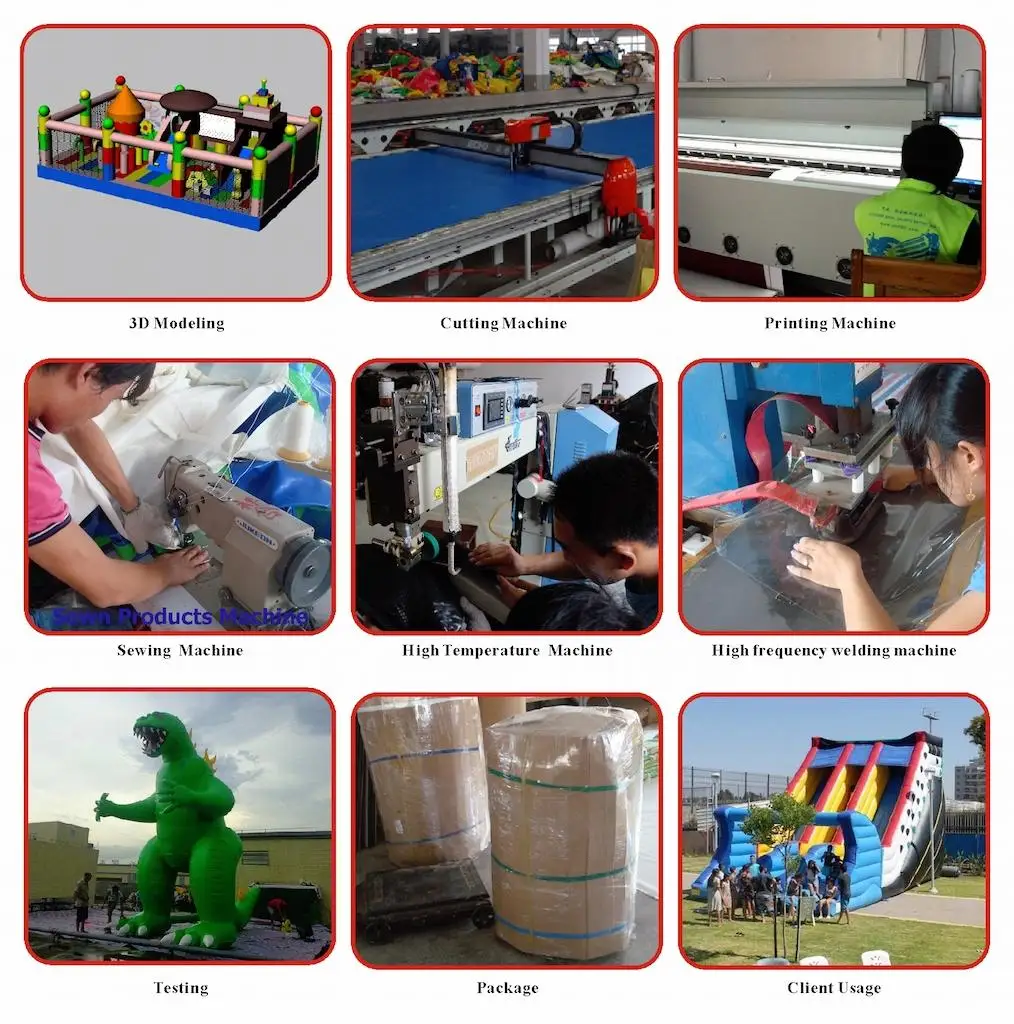 How to customized and buy from Xianghe Inflatable Products Factory ?
Step 1: Initial Meeting / Discussions
We will meet with you, usually in our factory, or through, phone, e-mail and faxes, to discuss the scope of the project and what the intended applications are. We will discuss the material requirements, and any legal requirements that may need to be complied with. We will also review color schemes at this point, as well as review any drawings or sketches that the customer may have. It may also be possible to discuss a budget amount for the project at this point.
Step 2: Submission to Design & Engineering (D&E)
The sales representative will submit all information to the D&E department and meet with the Design Manager (DM) to discuss the project. The DM will assign the project to be processed through the Design and Engineering department as required. The DM will also assign a Project Manager (PM) to manage and follow this account through the process. A project or game code will be assigned at this point.
Step 3: 3 Dimensional Drawings
The DM submits the project to our 3 Dimensional artist(s) who will complete a 3D Max computer rendering of the game. At this point, our design team will review the project and check for obvious design flaws, and stress areas. Once we feel this game passes this criteria, we will then submit the drawings to the customer for their input. Once all changes have been discussed and drawings have been sent back and forth, and customer approvals have been received, we then proceed to the next step.
Step 4: Pricing
At this point, we should be able to give you firm unit pricing based on the information that we have. If the price is agreeable, then we will enter into an agreement and proceed to the next step.
Step 5: Mechanical Drawings
While the 3D drawings are very nice and pretty drawings, they are not mechanical drawings. They are only for rendering purposes and customer approvals. The next step is to take the drawing and convert it to a mechanical drawing. The drawing at this point will go back to the Project Manager (PM). He or she will redraw the drawing into our AutoCAD program, carefully calculating that all panel sizes are accurate and that the drawing can actually be built as planned. Due to structural requirements, there may be slight variations of what you see in a 3D drawing what you can actually build. During this process, the PM will create a game manifest for cutting and costing purposes.Any art work or special graphics or shapes will also be created during this process, as required.
Step 6: Preliminary Review and Approval
While we will be communicating with the customer through all phases of the design process, Step 6 is an official process where the DM will review the design package and make final suggestions or give approval. All pertinent or remaining questions will be addressed to the customer for necessary answers at this time. A form will also be sent to the customer for their signed approval of the project.
Step 7: Patterning
Patterning is the next step. We have a department attached to our design department that only creates patterns for all of our products. Utilizing our digital printer, we will print out custom or unique shapes for pattern purposes.All markings are placed on the patterns at this time, and a full pattern set is then double checked, bagged and sent to the next step.
Step 8: Prototyping (Conditional)
(A prototype may be built at no charge according to the size and/or uniqueness of the order. Any order of 25 or more games of the same style will require a prototype to be built if the product is a new design. Smaller orders may also have a prototype made at a minimal charge if requested by the customer.)We will build a prototype of the product for a total design review. The whole intention of the prototype is to test to the limits of its design and find any areas that may be subject to fail. It is in both the customer,s and the factory,s best interests to find any flaws that may be in a product prior to going into full production. We invite the customer to come to the factory and test in any way that a customer reasonably would. All prototypes are retained by the factory and archived for future reference.
Step 9: Final Approval
At this point, the customer will sign off on all details of the product, and give final approval.
Step 10: Production
Once the Final Approval process is completed, the games will go into full production and shipped according to the customer requirements. At this same time, all necessary information for Anchoring and game play instructions will be submitted to the Graphics department for completion. We will also provide a nice catalog style photo of your finished products for your review or marketing purposes.